Echoes From the Caverns 03-24-17
Podcast: Play in new window | Download (Duration: 43:13 — 53.9MB) | Embed
Subscribe: Apple Podcasts | Email | RSS
Hello everyone! It's still just me Lord Baldrith here all alone…patiently awaiting Ascelpius' return from his wonderful trip soon! Here is the news of the week!
The Vile Weapons of the Obsidian Cabalists
The Making of Verdantis Mines
The Making of Solace Bridge Outskirts
The Making of Kas Ruins (update)
2017 Easter Content Weekend Flash Sale
R39 Offline Data Format Change – Character Preservation Notice
Supporting World Water Day – A Letter of Thanks
Community Livestream: Boss Fight!
Community Spotlight: Owl Sky City – Player Owned Town
Upcoming Events
Community Resources – Players Helping Players
Recommended Projects to Back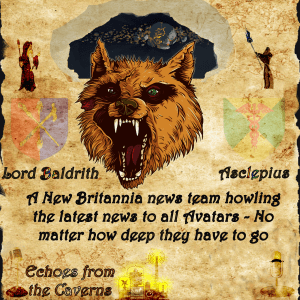 ---
Posted by Lord Baldrith - Email Author
Visit The Caverns Website.
Please note: This is a SotA community run project, and any and all content may deviate from the fictional canon of the game.