Echoes From the Caverns 03-17-17
Podcast: Play in new window | Download (Duration: 41:20 — 50.9MB) | Embed
Subscribe: Apple Podcasts | Email | RSS
Hello everyone! Asclepius is still on vacation, so I'll try to keep you entertained. A bit of a short newscast today. Here is the news of the week. :
The Making of Kas Ruins
NPC submissions requested for Harvest
Spring Telethon Updates: Missed Questions Answered, Rewards Update, YouTube Upload
R39 Decorations Weekend Flash Sale
World Water Day Make a Difference Sale
R39 Offline Data Format Change – Character Preservation Notice
Community Spotlight: Knightmare Falls – Player Owned Town
Upcoming Events
Community Resources – Players Helping Players
Recommended Projects to Back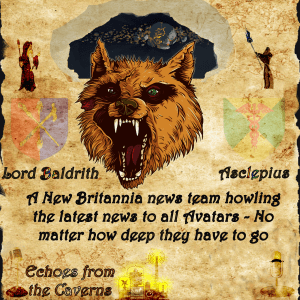 ---
Posted by Lord Baldrith - Email Author
Visit The Caverns Website.
Please note: This is a SotA community run project, and any and all content may deviate from the fictional canon of the game.