Echoes From the Caverns 03-31-17
Podcast: Play in new window | Download (Duration: 53:26 — 65.9MB) | Embed
Subscribe: Apple Podcasts | Email | RSS
Hello everyone! Lord Baldrith all ALONE here still…Excellent to be playing release 40!!!! Here is the news of the week!
Play Release 40 Now!
Q2 2017 Schedule Update
Free Trial Test 2: April 6 – 10
The Making of Verdantis Mines (update)
Shroud in the News: MMORPG.com & IGN Unfiltered
Novia Renamed to TRAMMUCCA
R39 Lot Deed Raffle Winners
Pattern Packs Weekend Flash Sale
Tech Talk Tuesday
Community Livestream: Kas Ruins – First Look
Upcoming Events
Community Resources – Players Helping Players
Recommended Projects to Back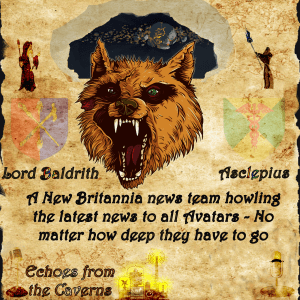 ---
Posted by Lord Baldrith - Email Author
Visit The Caverns Website.
Please note: This is a SotA community run project, and any and all content may deviate from the fictional canon of the game.