A Tale For Young Men With Plans To Join The Ranks Of Scoundrels-Written by Reebdog-Narrated by Asclepius
Podcast: Play in new window | Download (Duration: 4:07 — 5.4MB) | Embed
Subscribe: Apple Podcasts | Email | RSS
Hello everyone, this is Asclepius, with a great story from Reebdog, entitled A Tale For Young Men
With Plans To Join The Ranks Of Scoundrels.  Background music "Pavane", by Smartsound.

"I could tell you about the thousands of golden coins run through my pockets or the hordes of ale pass through my belly but none will compare to the story of a scoundrels peril, boy." The little boy of maybe nine or ten looked up at the man who had wild, stiff, hair escaping his nostrils and flaps of hair covering his ears. It looked as if he had been wearing a leather archers helmet during a rain storm. His eyes were misshapen, one being the shape of an almond and the other a walnut, with what almost looked like cracks digging in around his cheeks. The boy looked at him and said "I….I'm…sorry sir." Just a few moments earlier the candy merchant had caught the boy stuffing his pockets with his most savory caramel and peppermint sticks.

"Listen to me boy, I know your kind. And I got a little surprise just for you." The man sat him down on a bench resting against the wall. He clenched the boys arm so he couldn't escape as he gathered a deep breath and started singing:

"A boy of four and ten I was
a lookin' for some gold.
Robbed farmers and such
and gathered me much,
a fools boy to behold.

Kingsport men with silver swords
and shields of shiny gold
with ruby chains and golden crowns
the rich men to behold.

A man of nine and ten I was
a smugglin' far and wide.
The rich men never knew as much
amongst them I would hide.

Until one day we went a'dock
ship filled to the brim,
I made my coin and wandered home
heard whispers lined with grins.

See I got caught and didn't know
one thing had caught their eye,
I kicked a chicken that did stand out,
was something I couldn't hide.

A little girl of one and ten
did see me sell her doll,
she spied me kick a chicken then
a chicken kicker behold."

During the song the boy had calmed down and the man gave him a quick look up and down his length. He shrugged his shoulders and looked at the boy and said "The smuggler got caught because he liked to kick chickens… you can't be a simple man and break the law, boy. You might think you can get away with it, but stealin' things, now that's a real mans skill." He raised the boy to his feet by his arm and thrust him toward the door. The man looked down at some papers on his counter and said "Don't come back 'til you're a real man."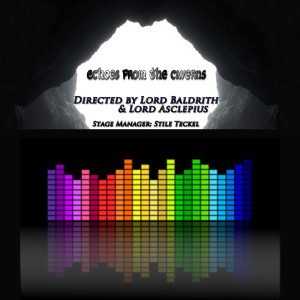 ---
Posted by Asclepius - Email Author
Visit The Caverns Website.
Please note: This is a SotA community run project, and any and all content may deviate from the fictional canon of the game.