Announcing Special guests for 9/5/14 Newscast show!
First off Lord Baldrith is slacking a bit and taking a vacation. I know, right? Not to worry though the show will go on with Asclepius in the driver seat. We can't have a talk news show with only one news caster though! That is why Lord Jouten who was previously on as a special guest is going to return to cover for Lord Baldrith!
We still need a special guest though, right? Well, here's where I get very excited!!!
The Awesome, one and only, JOE GARRITY has agreed to do an appearance!!! If your not familiar with Joe Garrity he was one of the first few people to be granted a Knighthood in the Order of the New Britannia Empire by Lord British. His work goes back much father then that though!
A player of video games since the EARLY days he was smart enough waaayy back when to say.. This stuff needs to be preserved for history! Some day someone is going to look back and want to know about the early history of gaming, how it was made, what it consisted of, and they are going to want to see those relics from the past!
So Joe Garrity created the "Origin Museum". He did it with Stile..err Style!!! He started collecting very early on compiling one of the worlds largest collections of Origin products. Not just games mind you! He collected notes, art, business card, stories, and all the things used to make it all. He contacted developers and companies explaining his mission and engaged them to help. He still continues to work with some of the big names in the industry today to preserve the Origin gaming history and his hand is felt by many of you, even when you don't know it!
While not a highly active Shroud of the Avatar community member his touch is still felt by many of us. He often appears on Hearth of Britannia Dragon meets showing pieces of the history of what has led us to where we are now. If you visit the archives you will see his show and tell in many places!
In fact when I was chit chatting with him and asked him if he'd do this, he said "Stile, what would I say? Im a show and tell guy! I wave my hands and stick things up to the camera" (that's a paraphrase of course). I said Joe!! Its not the cool stuff (although it is cool stuff), you tell awesome stories man! You know the history of things and you have so many great stories about our gaming history. Things I don't see or know on the net.. and trust me, I know a lot!
Not to leave off there though but hes even helped support Shroud of the Avatar. When the Hearth of Britannia ran it's telethon he donated many of the prizes that people won, including the Ultima Iv Library edition copy that I won (photo below). The only one in the world and a truly unique item! That's how Joe is, it's not about owning it all. Its about preserving it and he doesn't mind pieces going to good homes as long as he knows they will be loved and cared for.
There's sooo much more that can be said about Joe, but I am going to leave it there – as honestly, I could write a book and I have only known him for about a year. A great guy, a nice guy, and one that I hope you all enjoy hearing a few more stories from.
It will be a true honor to have him on and I hope many of you get to enjoy another opportunity to hear from him!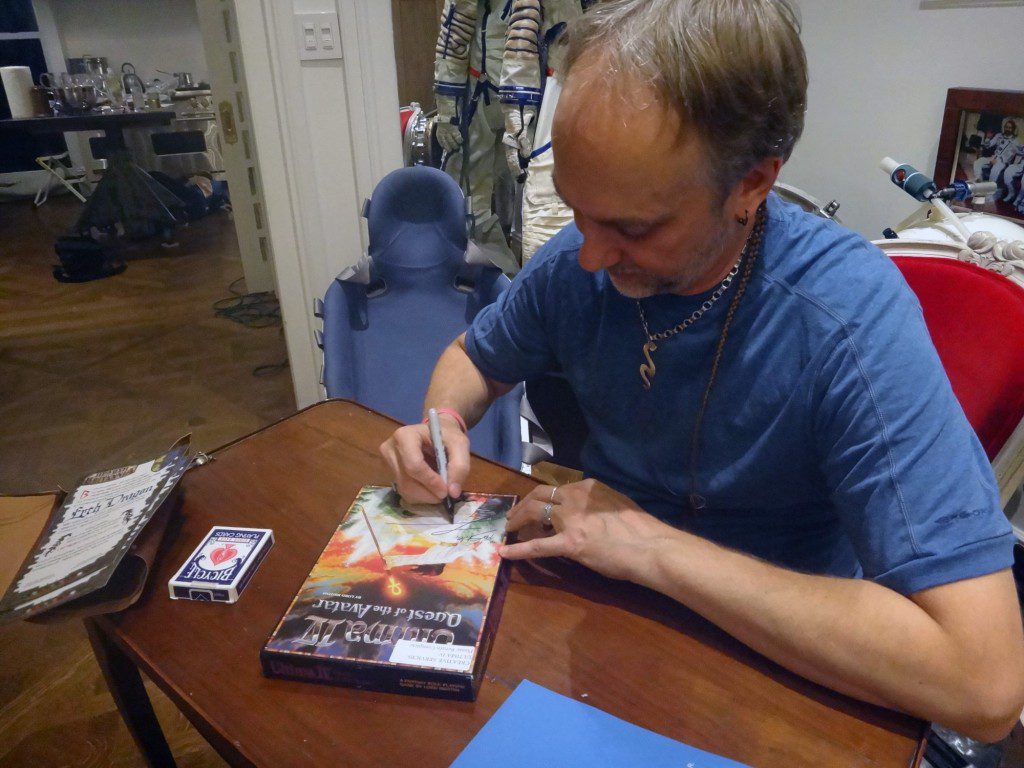 ---
Posted by Sir Stile Teckel - Email Author
Visit The Caverns Website.
Please note: This is a SotA community run project, and any and all content may deviate from the fictional canon of the game.