Regulations – by The New Britannia Theater Troupe
Podcast: Play in new window | Download (Duration: 5:22 — 8.0MB) | Embed
Subscribe: Apple Podcasts | Email | RSS
Greetings Avatars – here for your enjoyment is the second short play presented by the NBTT on the opening weekend of R17, at the beautiful theater in Paxlair. Enjoy!
We now present our second play, entitled
"Regulations"
Written by Womby
Produced and directed by Asclepius
Director of Public Relations Amber Raine
Cast
Lord Baldrith as the narrator and Official 1
Asclepius as Official 2
Music by Smartsound
NARRATOR
Few people are aware of the thankless tasks carried out by our loyal public administrators.
Let us take a moment to listen in to two such faithful public servants as they go about their daily duties in a back room somewhere in Owl's Head.

OFFICIAL 1
I hate this job.

OFFICIAL 2
You say that every day.

OFFICIAL 1
That's because it's true every day. Take the case of this weirdo south of the river.

OFFICIAL 2
What weirdo?

OFFICIAL 1
You know, that drunkard who built a monumental eyesore out of wardrobes and giant chess boards on his village lot. He even has a hot tub in there somewhere.

OFFICIAL 2
Ah yes. I remember processing all those public complaints. If I recall correctly I sent an inspector down there to order him to take it down. What happened with that?

OFFICIAL 1
The inspector returned with a message, and then promptly quit. Said he had better things to do with his life.

OFFICIAL 2
That's odd. What was the message?

OFFICIAL 1
It's a statement.

OFFICIAL 2
OK, what was the statement?

OFFICIAL 1
No, no, that's what the message said. It said, and I quote, "It's a statement."

OFFICIAL 2
It's a statement? It's a freaking statement?
This unemployed drunkard builds a house out of giant chess boards balanced on wardrobes, violating every city ordinance and construction regulation in the book,
and all he has to say for himself is "It's a statement"?

OFFICIAL 1
Well, he has point.

OFFICIAL 2
What do you mean, he has a point?

OFFICIAL 1
Have you seen the number of identical buildings springing up?
It's these Avatars. They turn up, disappear for a week, and suddenly they have a plot of land with the most expensive building possible on it.
It's suspicious, it's unfair and it's downright nauseating.

OFFICIAL 2
Look, I'm not saying I disagree with you, but regulations are regulations. Who knows where such chaos will lead. Did you issue him with a summons?

OFFICIAL 1
Nope.

OFFICIAL 2
Why not?

OFFICIAL 1
I didn't issue him with a summons because he wasn't doing anything wrong. While doing research to fill in the appropriate paperwork, I discovered that his plot is zoned as "Parks and Residential".

OFFICIAL 2
So?

OFFICIAL 1
Well, it turns out he has officially declared that his lot is a park, and his structure is a sculpture celebrating the inventor of beer.
He has generously donated his sculpture to the city, but is now claiming the annual artist's grant for public works.
The one that nobody else has applied for this year.

OFFICIAL 2
Oh no!

OFFICIAL 1
Oh yes. We have no choice but to award it to him since he is the only applicant.
That isn't all, however. In fact, here's where it gets really interesting.
The city is legally obliged to appoint guards to patrol all public structures, and that includes his sculpture, which is now owned by the city.

OFFICIAL 2
A costly nuisance, yes, but why is that interesting?

OFFICIAL 1
Our drunken friend has applied for the job to guard his sculpture.

OFFICIAL 2
That crafty devil! The rules force us to award the position to the person best suited for the job, and since he lives inside the sculpture, he is the obvious choice!

OFFICIAL 1
Exactly. [PAUSE]
Want to knock off early today? I could do with a drink.

OFFICIAL 2
Absolutely!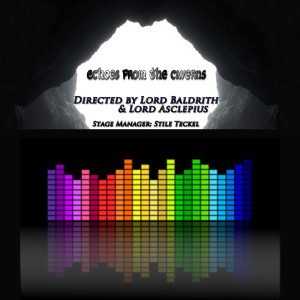 ---
Posted by Asclepius - Email Author
Visit The Caverns Website.
Please note: This is a SotA community run project, and any and all content may deviate from the fictional canon of the game.