Echoes From the Caverns 05-29-15
Podcast: Play in new window | Download (Duration: 1:39:57 — 91.5MB) | Embed
Subscribe: Apple Podcasts | Email | RSS
Hello Everyone! Here is the news for May 29th, 2015. Hope you are enjoying Release 18!
Please support Avatars Radio at www.avatarsradio.com and click on the patreon link.
Special Guest Filling in for the vacationing Asclepius:
Cordelayne
Play Release 18 Now!
Player Owned Town #2: The Open PvP Town of Vengeance
Avatars Radio Presents FireLotus Traditional Release (18) Party
Support Avatars Radio on Patreon
Rize Up Gaming plus SotA Backers Raise Over $8,000 for Water.org
New Basements
In-game Community Weekend Events
4 Days Until Bard's Tale IV Kickstarter Campaign
Blade of the Avatar Pledge Reward and Add-Ons Expire May 31
Receiving Pledge Rewards and Add-On Items
Changes to Store Credit Conversions
Steam Access Keys Available for All Backers
How to Cancel Monthly Layaway Payment Plans
Upcoming Events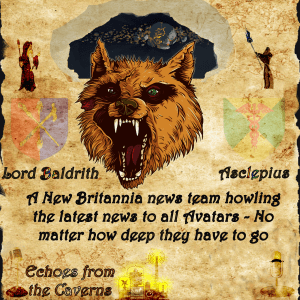 ---
Posted by Lord Baldrith - Email Author
Visit The Caverns Website.
Please note: This is a SotA community run project, and any and all content may deviate from the fictional canon of the game.