Echoes From the Caverns 05-22-15
Podcast: Play in new window | Download (Duration: 1:00:43 — 55.6MB) | Embed
Subscribe: Apple Podcasts | Email | RSS
Hello Everyone! Here is the news for May 22nd, 2015.
Please support Avatars Radio at www.avatarsradio.com and click on the patreon link.
Special Guest:
Cordelayne
SotA Backers Raise $4,000+ for Rize Up Gaming's Water.org Charity Drive
Who's Gaming Now Game/Music Bundle in Support of Alive Inside/Music & Memory
Abe's Desert Biome Template – WIP
Play DND1 on the SotA Teletype
Release 18 Grand Tour Quest Reward: Bycocket Hat
Twin Spire Manor City Home Now Available to PoTs and LotM Pledges
In-game Community Weekend Events
The Bard's Tale IV Coming to Kickstarter
Blade of the Avatar Pledge Reward and Add-Ons Expire May 31
Receiving Pledge Rewards and Add-On Items
Changes to Store Credit Conversions
Steam Access Keys Available for All Backers
How to Cancel Monthly Layaway Payment Plans
Upcoming Events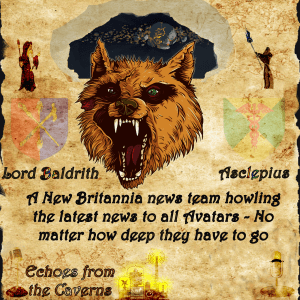 ---
Posted by Lord Baldrith - Email Author
Visit The Caverns Website.
Please note: This is a SotA community run project, and any and all content may deviate from the fictional canon of the game.