Echoes from the Caverns 11.28.2014
Podcast: Play in new window | Download (Duration: 38:34 — 53.8MB) | Embed
Subscribe: Apple Podcasts | Email | RSS
Hello everyone, here is the newscast for November 28, 2014.
The news actually appeared early this week, due to the Thanksgiving holiday, but here we are as usual bringing you all the SotA news and updates.
Highlights this week include:
SotA Successfully Launches on Steam Early Access
The Mad Hermit's Video Guide to Release 12
New Release 13 Scene: Graff Gem Mines
SotA Community is Rockin' It!
Cyber Monday 12 Hour Telethon
In-game Community Weekend Events
R12 Steam Access Keys Available for All Backers
6 Days Left to Get Your Black Friday 15% Bonus
Holiday Specials
Last Chance Exclusives: The Carpentry Hammer and Rustic Village Home
Recruitment Bonus and Alienware Pledge Upgrade Promotions End
Upcoming Events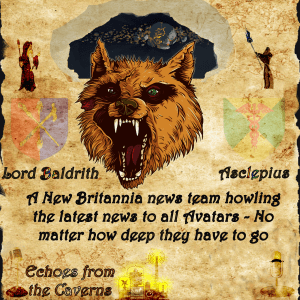 ---
Posted by Asclepius - Email Author
Visit The Caverns Website.
Please note: This is a SotA community run project, and any and all content may deviate from the fictional canon of the game.