Echoes from the Caverns 11.21.2014
Podcast: Play in new window | Download (Duration: 35:32 — 50.2MB) | Embed
Subscribe: Apple Podcasts | Email | RSS
Hello everyone, here is the newscast for November 21, 2014. An awesome collection of news, coupled with the R12 release!
Join us and our guest StaticGrazer as we dissect all the news!
Highlights this week include:
Hearth of Britannia: Legends of the Hearth II
Play Release 12 Now and Get Your Pilgrim's Hat
Release 12 In-game Community Events
Easter Egg: Sword of Power!
Lord British Weighs In on Companions, Solo Play and the Development Process
Community Spotlight: Scholars of Novia's First Writing Contest Winners
R12 Steam Access Keys Available for All Backers
Get Your 15% Bonus
Cyber Monday All Day Telethon
Holiday Specials
Last Chance Exclusives: Cooking Pot of Prosperity and Magic Sigil Cloak
Monthly Payment Plan Extended Through June 2015
Alienware Sponsors $20 Pledge Upgrade Coupon
This Week In The News
Upcoming Events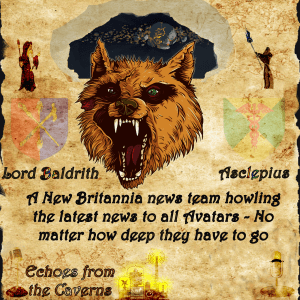 ---
Posted by Asclepius - Email Author
Visit The Caverns Website.
Please note: This is a SotA community run project, and any and all content may deviate from the fictional canon of the game.