Echoes From the Caverns 10-14-16
Podcast: Play in new window | Download (Duration: 1:30:31 — 115.2MB) | Embed
Subscribe: Apple Podcasts | Email | RSS
Hello everyone! Here is the news of the week!
Darkstarr Joins Lord British for the Ultima Dragons 25th Anniversary Event
The Making of Harvest (Unclone)
CThe Making of Graff Island (Unclone)
Darkstarr Moondial Update
POT Spotlight: Silverhold
Portalarium Office Gets Decorated!
R34 Postmortem Recap
Policy Change: POT Ownership Transfers
New Aeronaut Value Packs
Get Your 15% Black Friday Bonus Now!
Upcoming Events
Community Resources – Players Helping Players
Job Openings (1)
Recommended Projects to Back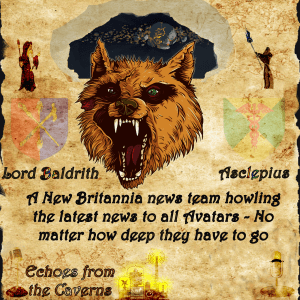 ---
Posted by Lord Baldrith - Email Author
Visit The Caverns Website.
Please note: This is a SotA community run project, and any and all content may deviate from the fictional canon of the game.