Echoes From the Caverns 10-07-16
Podcast: Play in new window | Download (Duration: 1:26:52 — 108.2MB) | Embed
Subscribe: Apple Podcasts | Email | RSS
Hello everyone! Here is the news of the week!
Get Your 15% Black Friday Bonus Starting Now!
Homes of New Britannia – House Decoration Contest
Clasped Gauntlets Cloak for Community Events
Breast Cancer Month
GDC Europe Interview: Lord British on the Virtues of Shroud of the Avatar
Markee Dragon and the Museum of the Avatar
Fancy Hand Fans
Policy Changes: Unclaimed Bundles & Pending Gifts of Pledges
12 New POT Templates Now Available
New Elven Bundles, Spooky Value Packs, and Add-On Store Goodies
Upcoming Events
Community Resources – Players Helping Players
Job Openings (1)
Recommended Projects to Back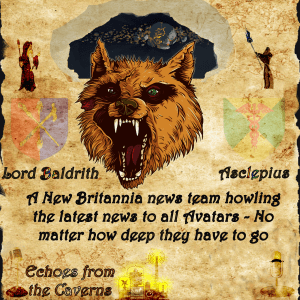 ---
Posted by Lord Baldrith - Email Author
Visit The Caverns Website.
Please note: This is a SotA community run project, and any and all content may deviate from the fictional canon of the game.