Echoes From the Caverns 03-11-16
Podcast: Play in new window | Download (Duration: 1:16:35 — 70.1MB) | Embed
Subscribe: Apple Podcasts | Email | RSS
Hello everyone! Here's what we have for you in this week's edition of Update of the Avatar! We had a surprise guest this week while the podcast was going! We are happy to have guest:
Cordelayne
Sneak Peek: Brittany, Capital of Novia
The Making of Skrekk – Part 3
The Making of Shores of Malice – Part 3
Sandillox Wrestling Federation
EVL Saint Patrick's Day Pre-Party
Hangout of the Avatar ~ Release 27 Postmortem
52 Day Countdown to Spring 2016 Pledge Expirations
Backer Shipping Addresses
In-game Community Events
Upcoming Events
Recommended Projects to Back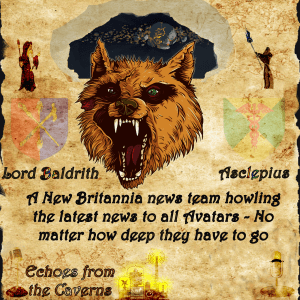 ---
Posted by Lord Baldrith - Email Author
Visit The Caverns Website.
Please note: This is a SotA community run project, and any and all content may deviate from the fictional canon of the game.