Echoes From the Caverns 09-25-15
Podcast: Play in new window | Download (Duration: 1:25:15 — 78.0MB) | Embed
Subscribe: Apple Podcasts | Email | RSS
Hello Everyone! Here is the news for September 25th, 2015. Hope you are enjoying Release 22!
Play Release 22 Now!
FireLotus Release 22 Dance Party!
R22 Patch Notes
Release 22 Screenshot Gallery: Fishing
Jakup White's Map of World
Wanted: Athanil of Bear Tavern
Q4 2015 Schedule Update
Tavern Rap by Brian Vesper
Rough Stone Building Blocks
Autism Awareness Charity Events
SpeedTree Contributes Autism Awareness Puzzle Tree
Stone Crypt
Elven Homes
38 Day Countdown for Fall Reward & Sale Expirations
Auto-Canceling Monthly Layaway Payment Plans
In-game Community Weekend Events
This Week In The News
Upcoming Events
Recommended Games to Back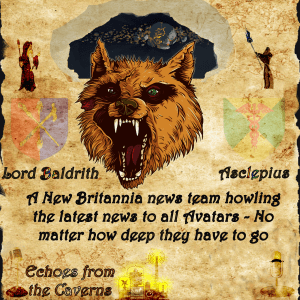 ---
Posted by Lord Baldrith - Email Author
Visit The Caverns Website.
Please note: This is a SotA community run project, and any and all content may deviate from the fictional canon of the game.