Echoes From the Caverns 07-17-15
Podcast: Play in new window | Download (Duration: 1:11:00 — 65.0MB) | Embed
Subscribe: Apple Podcasts | Email | RSS
Hello Everyone! Here is the news for July 17th, 2015.
Architecture of the Obsidians!
One Month Countdown for Pledge Splits and Merges
Do you have a Public Cache Chest Quest?
NBNN Interview With Starr Long
10% Bonus on Player Owned Towns & Capping Overland Map Access to 230 Towns
Tantalus Consortium Visual Guide to Player Owned Towns) & Reward Expirations
45 Day Countdown for 10% Summer Bonus (Now including Player Owned Towns) & Reward Expirations
Community Sponsored SotA Con at Gen Con 2015!
Batten Disease Charity Drive by Rize Up Gaming
Koldar's Trading Card Giveaway
The Kobald Mask 4-More Pack
Tree Lovers Delight!
In-game Community Weekend Events
Upcoming Events
World Builder/Level Designer and VFX Artist Job Openings
Recommended Games to Back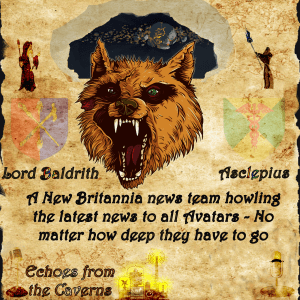 ---
Posted by Lord Baldrith - Email Author
Visit The Caverns Website.
Please note: This is a SotA community run project, and any and all content may deviate from the fictional canon of the game.