Echoes From the Caverns 07-03-15
Podcast: Play in new window | Download (Duration: 1:03:43 — 58.3MB) | Embed
Subscribe: Apple Podcasts | Email | RSS
Hello Everyone! Here is the news for July 3rd, 2015. Happy Birthday Lord British! Hope Everyone has a great 4th of July!
Port Phoenix Lore
Q3 2015 Schedule Update
Architecture of the Obsidians!
Very Large Creatures: Trolls
Tantalus Consortium's Reinforce Novia – Quest
Remix of the Avatar
New Outdoor Fountain Decorations
Thou hast been invited to the Release 19 Postmortem!
World Builder/Level Designer and VFX Artist Job Openings
In-game Community Weekend Events
Receiving Pledge Rewards and Add-On Items
Changes to Store Credit Conversions
Steam Access Keys Available for All Backers
How to Cancel Monthly Layaway Payment Plans
Upcoming Events
Recommended Games to Back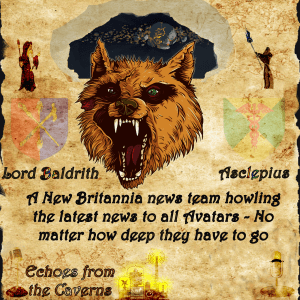 ---
Posted by Lord Baldrith - Email Author
Visit The Caverns Website.
Please note: This is a SotA community run project, and any and all content may deviate from the fictional canon of the game.