Echoes from the Caverns 03-09-2018
Podcast: Play in new window | Download (Duration: 1:16:23 — 153.7MB) | Embed
Subscribe: Apple Podcasts | Email | RSS
Greetings Fellow Avatars! On my own today as Lord Baldrith has called in sick. Get better soon!
Here's what we have for you in this week's edition of Update of the Avatar:
Game Development
The Companions of Truth, Love, and Courage
Making of Northwood
Making of Blood River Forest
R50 Postmortem Rewards: Mardi Gras!
News Announcements
R51 Postmortem YouTube Video & Missed Questions
Journey Onward by Richard Garriott
Win a Game Key with Loot to Shroud of the Avatar!
NPC Submission Request: Graff Island
URGENT: Confirm Your Physical Rewards Shipping Address!
The Ambassadors Program: How You Can Help
AERIE Fund Live with Water.org and Starr "Darkstarr" Long
Free Trial: Choose Any Path!
Weekend Flash Sale: Weapons & Armor
Upcoming Events Calendar
Community Updates
Charity: AERIE Fund – Community Cause – Ripple Effect
Event: Vyrin & Womby's Grand Opening in Soryn Field
Getting Started Video: The Leather Chest Armor of Love
Recommended Project to Support: BatMUD
Resources: Players Helping Players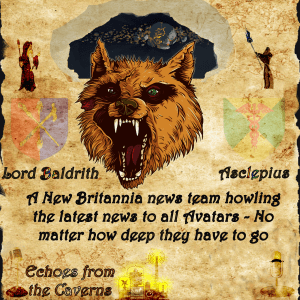 ---
Posted by Asclepius - Email Author
Visit The Caverns Website.
Please note: This is a SotA community run project, and any and all content may deviate from the fictional canon of the game.