Echoes From the Caverns 01-08-16
Podcast: Play in new window | Download (Duration: 39:20 — 36.0MB) | Embed
Subscribe: Apple Podcasts | Email | RSS
Hello everyone! Asclepius had some things going on this weekend so I am flying solo. Sorry for the shorter than normal newscast…I enjoy reporting all things Shroud, so it's too the point with less gab haha.
Here's what we have for you in this week's edition of Update of the Avatar:
The Making of Sanctus Spine
The Wondrous Winter Telethon of the Avatar!
Community Sponsored Portalarium Holiday Party
Grannus, The Titan of Courage
Release 26 Grand Tour Quest Reward: Bowler Hat
Spoon's Silly Spectacles – the Treasure Hunt of the year 478
Final Weekend for 10% Holiday Bonus
In-game Community Events
Upcoming Events
Recommended Projects to Back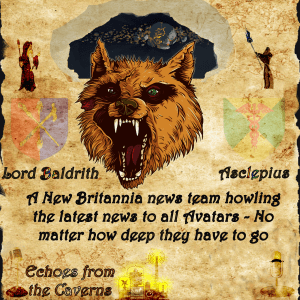 ---
Posted by Lord Baldrith - Email Author
Visit The Caverns Website.
Please note: This is a SotA community run project, and any and all content may deviate from the fictional canon of the game.