Echoes from the Caverns 01-02-2016
Podcast: Play in new window | Download (Duration: 1:11:39 — 106.4MB) | Embed
Subscribe: Apple Podcasts | Email | RSS
Hello everyone! Happy New Year for 2016! I have a great feeling about this year – hopefully it will be the Year of the Shroud!
On my own this week, as Lord Baldrith is busy. The main news items for this week are:
Here's what we have for you in this week's edition of Update of the Avatar:
Happy New Year!
Only 4 Days Remaining Until the Winter Reward & Price Expiration Deadline
Resolute
North Varisalla Foothills
The Making of The City of Aerie – Part 2
NPC Submissions Requested for Aerie and Resolute!
Dev+ Asset Packs Galore in December!
Brass Clockwork Raven
White Stone Castle Wall
Release 24-25 Christmas Decoration Contest Winners!
24 Hours of New Year's Parties!
New Years Day Costume Party In Obsidian Caverns
4B's Get In Shape Maze
In-game Community Events
Upcoming Events
Recommended Projects to Back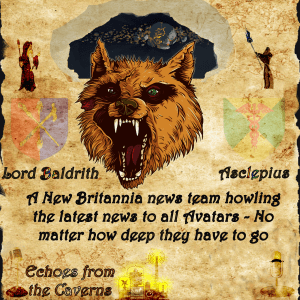 ---
Posted by Asclepius - Email Author
Visit The Caverns Website.
Please note: This is a SotA community run project, and any and all content may deviate from the fictional canon of the game.