Echoes From the Caverns 8-1-14
Podcast: Play in new window | Download (Duration: 53:09 — 121.6MB) | Embed
Subscribe: Apple Podcasts | Email | RSS
Hello there everyone!  Lord Baldrith here.  Another installment of the news with me and Asclepius!  Today we have special guest Sir Stile Teckel in the news with us.  Also asking a few questions of Sir Teckel.  Awesome interview!  Hope you enjoy the news!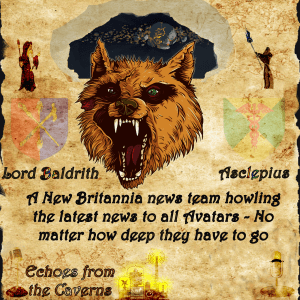 ---
Posted by Lord Baldrith - Email Author
Visit The Caverns Website.
Please note: This is a SotA community run project, and any and all content may deviate from the fictional canon of the game.