Echoes From the Caverns 7-25-14
Podcast: Play in new window | Download (Duration: 24:27 — 56.0MB) | Embed
Subscribe: Apple Podcasts | Email | RSS
Hello Everyone!  Lord Baldrith & Asclepius with Echoes From the Caverns.  Thanks to Asclepius we have fine tuned our sound quality quite a lot this week.  It was my fault for the echo, since I do not wear a headset my mic was picking up 2 copies of voice.  Hope you enjoy this weeks news!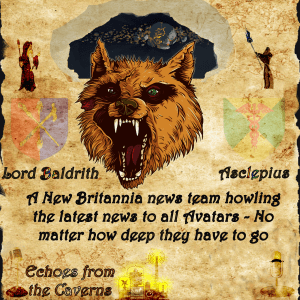 A note from Stile Teckel – These guys are fantastic and I want to thank them for allowing me to work with them given all the people they could choose *bows*. Great show guys!
---
Posted by Lord Baldrith - Email Author
Visit The Caverns Website.
Please note: This is a SotA community run project, and any and all content may deviate from the fictional canon of the game.