Echoes From the Caverns 06-10-16
Podcast: Play in new window | Download (Duration: 40:14 — 52.2MB) | Embed
Subscribe: Apple Podcasts | Email | RSS
Hello everyone! Asclepius is on vacation, so I will do my best to keep you awake 🙂 Here is the news of the week!
Preorder The Sword of Midras SotA Novel and Audiobook!
HoBLotH III Community Event
Royal Warrant Awarded to The Phoenix Republic
Xounts Kickstarter: Shroud of the Avatar Special
The Mysterious Chamber at the Confluence
The Making of Brittany Wharfs
47 Day Countdown to Summer 2016 Expiration Event, Part 1
Upcoming Events
Community Activities
Community Resources – Players Helping Players
Backer Shipping Addresses
Recommended Projects to Back/li>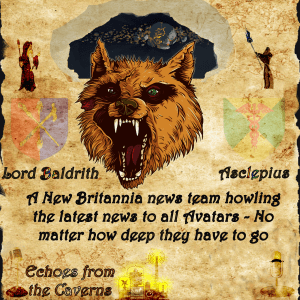 ---
Posted by Lord Baldrith - Email Author
Visit The Caverns Website.
Please note: This is a SotA community run project, and any and all content may deviate from the fictional canon of the game.