Echoes From the Caverns 06-03-16
Podcast: Play in new window | Download (Duration: 1:25:24 — 109.3MB) | Embed
Subscribe: Apple Podcasts | Email | RSS
Hello everyone! Here's what we have for you in this week's edition of Update of the Avatar! We had two surprise guests this week!
Cordelayne
Berek
Release 30 Postmortem
Brittany Wharfs
Brittany Alleys
Gold Crowns of the Obsidians Clarifications
Revamped Founder Leather Armor, Benefactor Cloth Tunic & Founder Cloth Tunic
Richard Garriott is Certifiable (on Twitter)
Unity Onsite
Austin Unity Developer Meetup: Worldbuilding with Finn & Esteben
Updates to POT Pages
Keep Stone Arena Basement
Clarification on New Game Access Bundles
Viking 4-Story Row House & Viking Wearable Bundles
54 Day Countdown to Summer 2016 Expiration Event, Part 1
Viking 4-Story Row House & Viking Wearable Bundles
Upcoming Events
Community Activities
Community Resources – Players Helping Players
Backer Shipping Addresses
Recommended Projects to Back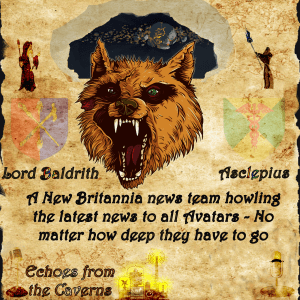 ---
Posted by Lord Baldrith - Email Author
Visit The Caverns Website.
Please note: This is a SotA community run project, and any and all content may deviate from the fictional canon of the game.