The Diary of Eva Grace, Vol II – by enderandrew – narrated by Lady Adnor
Podcast: Play in new window | Download (Duration: 4:42 — 5.9MB) | Embed
Subscribe: Apple Podcasts | Email | RSS
Hello everyone, this is Lady Adnor, and I am pleased to bring you the continuation of the Diary of Eva Grace, written by enderandrew.
-=-=-=-=-=-=-=-=-=-=-=-=-=-
The Diary of Eva Grace – Vol II
Told by Eva Grace
He found me in the tavern, where I spent most of my free time. I was a little drunk and I didn't expect hostility. Some treated me with a little trepidation or concern, but this was a town of good people. I was still a stranger in a strange land, but more and more this town felt like home every day. I was beginning to suspect I would miss it when I left. I promised I would write and Thomas was even teaching me how to do that here.

When he appeared behind me and grabbed my shoulder, my quill dragged across the page.

"Hey, watch it! I only have so much parchment," I called out as I turned to face my attacker.

He had no qualms about hitting a woman as he shoved me hard into the bar. Thomas moved quickly around the bar to intervene.

"You're going to have to leave Jaged. I won't have any of that here." Thomas did not yell, but his stern voice was quite clear. He would have no violence in his establishment.

"Don't you see that she endangers us all? We're only a couple years away from the prophecy. Do you not know that she is an outlander? And what if the calendars are off? What if the prophecy is now?" He appealed to the crowd. I could sense their fear. But I wasn't sure if they feared him or me.

"Lord Enmar is aware of this superstition. She is not the only outlander in Novia. It is not yet the year of prophecy, nor do I put stock in such nonsense. He wisely agreed that we will judge individuals by their actions. She's been trying to help in her time here."

"Sadly, not very well I must admit," I muttered. Thomas didn't seem to approve of my interjection.

"She means well, and that is the point. She may not have been born here, but she is here now and she is a guest in my tavern. I will not tolerate anyone laying a hand on her again. If it happens again, you will deal with me and then you'll deal with the guard."

Perhaps Jaged anticipated the crowd would immediately side with him and he could have mob justice. As he surveyed the room and none jumped to his cause, he stormed out unsatisfied. I knew the matter was not yet resolved. I was still shaken up. Thomas insisted I drink tea instead of ale and crawl into bed so that I would awaken to a fresh day.

If only that were the case. The tea did help calm my nerves but I had trouble sleeping that night. Nightmares kept creeping in and I was suddenly terrified of this new world I found myself in. I wondered if I would ever find a way home. Then suddenly I awoke from one nightmare only to find myself in another.

Jaged stood over my bed. He shoved a pillow over my face to smother my scream as he whispered "I will not let you burn this world". I thought he meant to suffocate me and then he plunged a dagger into my heart. It was a shocking bolt of pain unlike any I had ever felt. I screamed out dying breaths that the pillow could not hide. Thomas awoke and ran to my room, seeing Jaged climb out the window and drop to the street below. I remember the last memory before my death was Thomas calling desperately for the guards to fetch Dreyfus and turning to look into my lifeless eyes.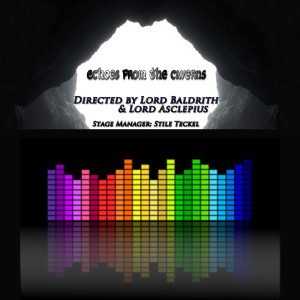 ---
Posted by Asclepius - Email Author
Visit The Caverns Website.
Please note: This is a SotA community run project, and any and all content may deviate from the fictional canon of the game.