The Guard and the Lily Part 2 – by reebdog – narrated by Stile Teckel
Podcast: Play in new window | Download (Duration: 3:23 — 4.3MB) | Embed
Subscribe: Apple Podcasts | Email | RSS
Hello everyone, this is Asclepius, with a great story from reebdog. It is entitled
"The Guard and the Lily, Part 2"
I am also delighted to introduce Sir Stile Teckel as guest narrator.
Musical background "Leap into Eternity – Live orchestra" by Matthew Pablo at www.matthewpablo.com
The Guard and the Lily (Part 2)

The day was rather humid for the season but all the while hauntingly familiar. When Randall was a young child his family was forced out of their home on a day similar. He could remember the sweat dripping down his father's forehead as he tried to explain to him why they had to find a new home and why his mother was crying hysterically. But he also remembers not long after moving to a farm where his grandparents raised sheep and cleaned wheat for neighboring farmers in exchange for their water. Those were some of the happiest days of his life. That farm is where he learned his trade, learned to read, and met a sweet young lady named Gilly. And it all led up to this great moment in his life. He felt like he owed it to Gilly after all the time they'd spent together and all she had done for him. It was a rough day to be out in the sun but it felt good. Each time he'd stop to water the horse or take a break under a tree he felt an overwhelming sense of accomplishment. That is what really kept him going. He could imagine their faces upon his return home to Owl's Nest. Gilly's bright as the moon smile and flickering eye lashes. His humble mother steadfast in the kitchen reaching for a hug. His father grabbing his shoulder and welcoming him back to the farm. These thoughts continued to drive him down each and every stretch of dusty trail. He finally reached a point on the trail he recognized. An old cobblestone statue set atop a mound of dirt with a large gargoyle pointing toward the sky. He didn't understand its meaning but would never forget the blank look in its empty stone eyes. He could smell fire as well which meant he was close to a gypsy camp. Gypsies were usually kind folk but have been known to get their heads listed on a bounty for various crimes. He had never experienced fear while his father chatted with them trail-side but knew not all men were kind. He knew dark would be coming soon and setting camp would be easier amongst a clan of gypsies. If he offered them a little coin or gathered firewood they would surely let him camp and eat and water his horse. He scanned the horizon for plumes of smoke and noticed it coming from the treetops near a tree line crossing the trail. Just as the horse started moving down the trail he heard a strange noise come from behind the behemoth statue. It sounded like a crossbow being drawn but he wasn't as sure. As he peered around the statue a deep, cracking, voice yelled out "Stop there or you'll get a shaft through the heart!"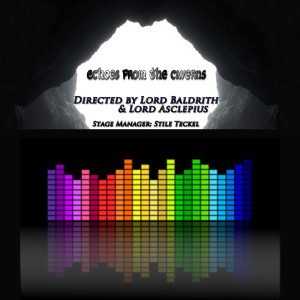 ---
Posted by Asclepius - Email Author
Visit The Caverns Website.
Please note: This is a SotA community run project, and any and all content may deviate from the fictional canon of the game.