Echoes From the Caverns 11-14-15
Podcast: Play in new window | Download (Duration: 1:21:34 — 74.7MB) | Embed
Subscribe: Apple Podcasts | Email | RSS
Hello Everyone! Here is the news for November 14th, 2015.
The Making of North Naryad Pinelands – Part 2
Hangout of the Avatar – Release 23 Postmortem
Release 24 Grand Tour Quest Reward: Pilgrim Bonnet
New Musical Instrument: Flute
NBNN's Radio Free Britannia
All Player Towns Gathering for Release 23
Clockwork Pets
Hot Air Balloon
Shroud of the Avatar Soundtrack Volume 1 – Wax Cylinders
52 Day Countdown for Winter Reward & Price Expirations
Get Your 15% Black Friday Bonus
In-game Community Events
Upcoming Events
Recommended Games to Back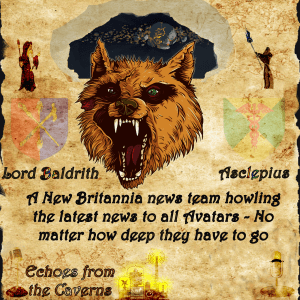 ---
Posted by Lord Baldrith - Email Author
Visit The Caverns Website.
Please note: This is a SotA community run project, and any and all content may deviate from the fictional canon of the game.