Echoes From the Caverns 11-06-15
Podcast: Play in new window | Download (Duration: 1:22:14 — 75.3MB) | Embed
Subscribe: Apple Podcasts | Email | RSS
Hello Everyone! Here is the news for November 6th, 2015.
The Fortress at Hilt in Nightshade Pass – Part 4
Mariah Overlook Teaser
The Making of North Naryad Pinelands
NPC Submissions Requested for Etceter
Thou are Invited to the Release 23 Postmoretem!
Extra Life. Play Games. Heal Kids.
Avatars Radio Race Challenge for Extra Life
59 Day Countdown for Winter Reward & Price Expirations
Get Your 15% Black Friday Bonus
In-game Community Events
Upcoming Events
Recommended Games to Back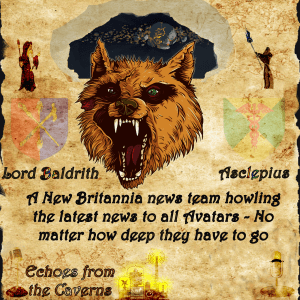 ---
Posted by Lord Baldrith - Email Author
Visit The Caverns Website.
Please note: This is a SotA community run project, and any and all content may deviate from the fictional canon of the game.