Echoes From The Caverns 10-30-15
Podcast: Play in new window | Download (Duration: 1:37:42 — 89.4MB) | Embed
Subscribe: Apple Podcasts | Email | RSS
Hello Everyone! Here is the news for October 30th, 2015. Hope you are enjoying Release 23!
Play Release 23 Now!
The Traditional FireLotus Release 23 Party!
R23 Patch Notes
New Player Owned Town Template: The Underground Biome
Player Owned Towns of Beran's Reach – Capital of The Beran League
Extra Life. Play Games. Heal Kids.
Localization Leaders Needed
R22 Halloween Decoration Contest Winners!
Pianist Bernie Katzman Joins Markee Dragon Playing Shroud of the Avatar
Last 3 Days for Fall Reward & Sale Expirations
Get Your 15% Black Friday Bonus
In-game Community Weekend Events
Upcoming Events
Recommended Games to Back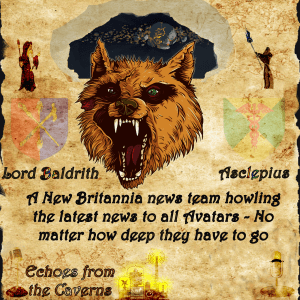 ---
Posted by Lord Baldrith - Email Author
Visit The Caverns Website.
Please note: This is a SotA community run project, and any and all content may deviate from the fictional canon of the game.