Echoes From the Caverns 08-28-15
Podcast: Play in new window | Download (Duration: 1:27:15 — 79.9MB) | Embed
Subscribe: Apple Podcasts | Email | RSS
Hello Everyone! Here is the news for August 28th, 2015. Welcome to Release 21! The new Use Based system is so Awesome!
Special Guest:
Cordelayne &
Margaritte
Syndicate Includes Shroud of the Avatar in Guiness World Record
Player Owned Towns: The Syndicate's Arx Draconis
Play Release 21 Now!
R21 Patch Notes
New Dev Team Members
Very Large Creatures: Dragons (Work-in-Progress)
Highlights of New Use Based System
New Pledge Rewards
End-of-Summer Telethon In Just 3 Days
3 Day Countdown for 10% Summer Bonus & Reward Expirations
Streetlamp Decos
New Dyeable Hats
Koldar's Trading Card Giveaway
In-game Community Weekend Events
Upcoming Events
Recommended Games to Back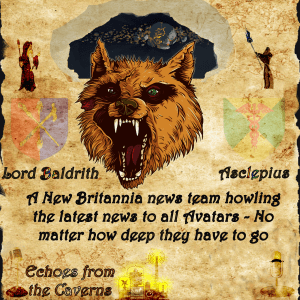 ---
Posted by Lord Baldrith - Email Author
Visit The Caverns Website.
Please note: This is a SotA community run project, and any and all content may deviate from the fictional canon of the game.