Echoes From the Caverns 08-14-15
Podcast: Play in new window | Download (Duration: 1:23:24 — 76.4MB) | Embed
Subscribe: Apple Podcasts | Email | RSS
Hello Everyone! Here is the news for August 14th, 2015.
Special Guest:
Se'an Silverfoot
Architecture of the Obsidians, Part 5: Desolis Underground!
Hangout of the Avatar – Release 20 Postmortem
Novia – Circa 1977
Let's talk about… USE BASED SYSTEMS! Part 1
Release 21 Grand Tour Quest Reward: Highwayman Hat
SXSW Panel Picker
Airship City Home
Last Weekend for Obsidian Tower 1/2 Off Sale
17 Day Countdown for 10% Summer Bonus & Reward Expirations
3 Day Countdown for Pledge Splits & Merges
In-game Community Weekend Events
This Week In the News
Upcoming Events
World Builder/Level Designer and VFX Artist Job Openings
Recommended Games to Back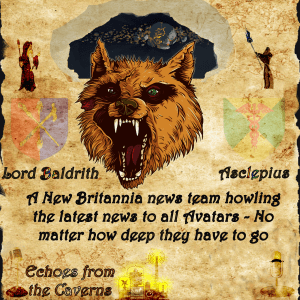 ---
Posted by Lord Baldrith - Email Author
Visit The Caverns Website.
Please note: This is a SotA community run project, and any and all content may deviate from the fictional canon of the game.