Echoes from the Caverns 05-11-2018
Podcast: Play in new window | Download (Duration: 1:07:24 — 100.0MB) | Embed
Subscribe: Apple Podcasts | Email | RSS
Greetings Fellow Avatars! Here's what we have for you in this week's edition of Update of the Avatar:
Lord Baldrith Departs (oh no!!)
Game Development

New Creatures: Skeleton Plunderers and Unicorns
The Making of Shaminian Hills
The Making of Upper Tears
The Making of Westend (cont.)
R52 Livestream Obsidian Order Items (cont.)
Heraldry Items (cont.)

News Announcements

R53 Livestream Results, YouTube & Missed Questions
NPC Submission Requests: Central Brittany
New Trailers: The Path of Virtue and The Path of Anti-Virtue
Portalarium is Hiring: Web Developer
Weekend Flash Sale: Fireworks
Upcoming Events Calendar

Community Updates

Event (Dev Led): Charge of the Dragons
Win a $50 Gift Card to RelicsbyRild.com!
Project to Support: SOTACON Austin 2018 – VIP Experience Package on sale now!
Resources: Players Helping Players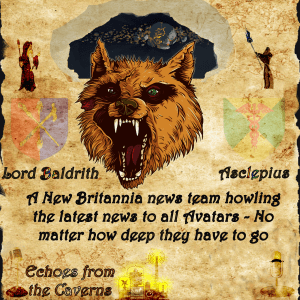 ---
Posted by Asclepius - Email Author
Visit The Caverns Website.
Please note: This is a SotA community run project, and any and all content may deviate from the fictional canon of the game.