Echoes From the Caverns 05-08-15
Podcast: Play in new window | Download (Duration: 1:17:50 — 71.3MB) | Embed
Subscribe: Apple Podcasts | Email | RSS
Hello Everyone! Here is the news for May 8th, 2015.
The Building of the PaxLair Maze
Birko's Customized Map of Novia
Community Created Street Names
Player Owned Town Submission Form
Steam Achievements
Bob's Bell Tower
The Mad Hermit's How to Get the Fez Hat Video
Thou has been invited to the Release 17 Postmortem
Get the Shroud of the Avatar Fansite Kit
Richard & Starr on the Past, Present, and Future of Game Development
Blade of the Avatar Pledge Reward and Add-Ons Expire May 31
In-game Community Weekend Events
Receiving Pledge Rewards and Add-On Items
Changes to Store Credit Conversions
Steam Access Keys Available for All Backers
How to Cancel Monthly Layaway Payment Plans
Upcoming Events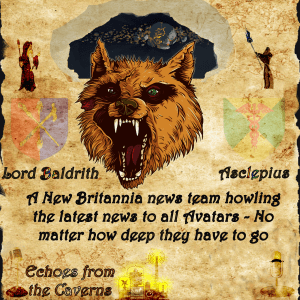 ---
Posted by Lord Baldrith - Email Author
Visit The Caverns Website.
Please note: This is a SotA community run project, and any and all content may deviate from the fictional canon of the game.