Echoes From the Caverns 03-13-15
Podcast: Play in new window | Download (Duration: 1:20:51 — 74.0MB) | Embed
Subscribe: Apple Podcasts | Email | RSS
Hi Avatars! Here is the news for March 13th, 2015. Release 15 is big fun!
R15 Postmortem with Special Guest Tracy Hickman
SotA Shows Razer Chroma Support at GDC
SotA at SXSW
Player Owned Towns Update: Scope, NPC Buildings, Icons, etc.
Abe's Overworld Work-in-Progress
White Lepus Mask
Kickstarter Shout-Outs
In-game Community Weekend Events
The Shape of Things to Come Competition
Receiving Pledge Rewards and Add-On Items
Changes to Store Credit Conversions
Steam Access Keys Available for All Backers
How to Cancel Monthly Payment Plans
This Week In the News
Upcoming Events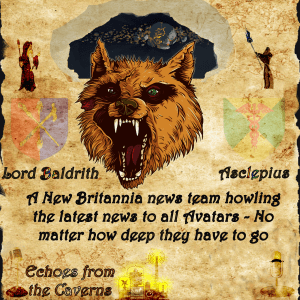 ---
Posted by Lord Baldrith - Email Author
Visit The Caverns Website.
Please note: This is a SotA community run project, and any and all content may deviate from the fictional canon of the game.