Echoes From the Caverns 02-26-16
Podcast: Play in new window | Download (Duration: 1:34:02 — 86.1MB) | Embed
Subscribe: Apple Podcasts | Email | RSS
Hello everyone! Here's what we have for you in this week's edition of Update of the Avatar! Hope you are enjoying R27!
Shooter Jennings' Countach Breast Cancer Make a Difference Charity
Countach World Premier Party Recap
Play Release 27 Now!
Avatars Radio Presents: The FireLotus Release 27 Party!
R27 Patch Notes
Player Housing Update: Player Owned Towns, Player Run Towns, and Water Lots
RizeUp Gaming Seattle Children's Hospital Charity Drive
Hangout of the Avatar ~ Release 27 Postmortem Invite
NBNN Interview with Starr Long
Kilts and Canes
Final Weekend to get Your Stretch Goal Store Items
Backer Shipping Addresses
In-game Community Events
Upcoming Events
Recommended Projects to Back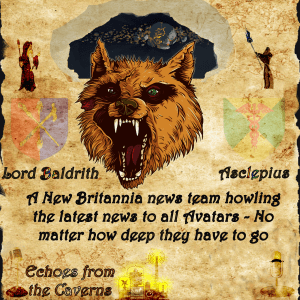 ---
Posted by Lord Baldrith - Email Author
Visit The Caverns Website.
Please note: This is a SotA community run project, and any and all content may deviate from the fictional canon of the game.