Echoes From the Caverns 01-29-16
Podcast: Play in new window | Download (Duration: 1:51:20 — 101.9MB) | Embed
Subscribe: Apple Podcasts | Email | RSS
Hello Everyone! Here is the news for January 29th, 2016. Hope everyone is enjoying R26!!
Special Guests:
Golden Wing & Cordelayne Valkaris
Play Release 26 Now!
The FireLotus Release 26 Party!
R26 Patch Notes
SPECIAL ANNOUNCEMENT: Final Wipe and Lot Selection
Shooter Jennings' In-Game Worldwide Premier of New Album "Countach"
The Entrance to Artifice
Valentine Goodies
New Player Homes
Checkers Anyone?
The Giant Yew Tree
In-game Community Events
This Week In the News
In-game Community Weekend Events
Upcoming Events
Recommended Games to Back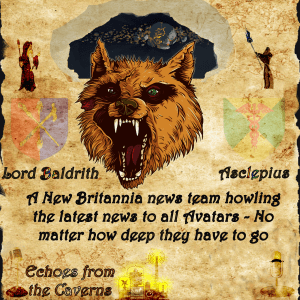 ---
Posted by Lord Baldrith - Email Author
Visit The Caverns Website.
Please note: This is a SotA community run project, and any and all content may deviate from the fictional canon of the game.