Echoes From the Caverns 01-15-16
Podcast: Play in new window | Download (Duration: 1:18:26 — 71.8MB) | Embed
Subscribe: Apple Podcasts | Email | RSS
Hello everyone!
Here's what we have for you in this week's edition of Update of the Avatar:
SPECIAL ANNOUNCEMENT: SotA Release Schedule Update
Dysborg Ruins
The Making of Paladis Shardfall
Grannus, The Titan of Courage
Kobold Architecture
Sojourner Tales Printing Press
Player Owned Towns: Grasslands Template
The Wondrous Winter Telethon of the Avatar!
Many Thanks For the Awesome Holiday Party!
Lunar New Year Replenishing Fireworks Boxes
In-game Community Events
Upcoming Events
Recommended Projects to Back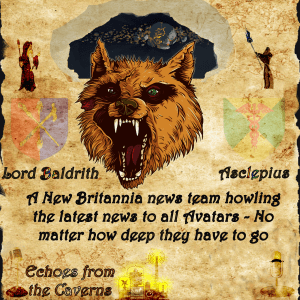 ---
Posted by Lord Baldrith - Email Author
Visit The Caverns Website.
Please note: This is a SotA community run project, and any and all content may deviate from the fictional canon of the game.