Echoes From the Caverns 12-16-16
Podcast: Play in new window | Download (Duration: 1:16:04 — 95.6MB) | Embed
Subscribe: Apple Podcasts | Email | RSS
Hello everyone! Hope you are enjoying release 37:
Play Release 37 Now!
17 Days Left for 10% Holiday Bonus!
Xenos Polish
The Making of Vauban Pass
The Making of Blood Bay
Richard Garriott on Exploding Dice
R36 Lot Deed Raffle Winners
Community of the Avatar Livestream – Clockwork Monkeys Strike!
Hangout of the Avatar ~ Release 37 Postmortem: Next Week
More Obsidian Bundles and Add-On Store Goodies!
Community Spotlight: Numinous Gleann – Player Owned Town
Upcoming Events
Community Holiday Party at Portalarium!
Community Resources – Players Helping Players
Recommended Projects to Back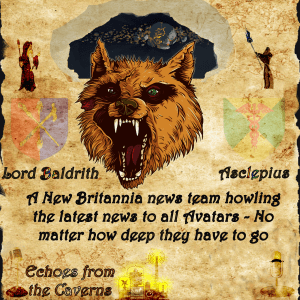 ---
Posted by Lord Baldrith - Email Author
Visit The Caverns Website.
Please note: This is a SotA community run project, and any and all content may deviate from the fictional canon of the game.