Echoes From the Caverns 12-05-14
Podcast: Play in new window | Download (Duration: 46:25 — 42.5MB) | Embed
Subscribe: Apple Podcasts | Email | RSS
Hello everyone, here is the news for December 05, 2014.
Lots of great stuff this week including:
SotA Steam Trading Cards
Release 13 Grand Tour POI: Desert Scene
R12 Steam Access Keys Available for All Backers
Hair and Hats Play Nice in R13
R13 Player Deco Items
New Mad Hermit Video: How To Find And Identify Magical Reagents
RECAP: Cyber Monday 12 Hour Telethon
In-Game Community Weekend Events
Alienware Sponsors 1000 Release 13 Weekend Access Passes
Holiday Specials
Last Chance Exclusives: The Hoe of Prosperity and Obsidian Cloak
How to Cancel Monthly Payment Plans
Recruitment Bonus Allocation Expiration
This Week In the News
Upcoming Events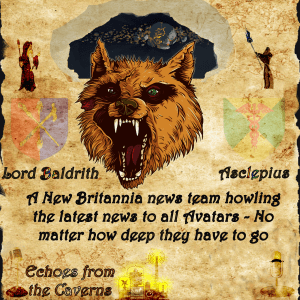 ---
Posted by Lord Baldrith - Email Author
Visit The Caverns Website.
Please note: This is a SotA community run project, and any and all content may deviate from the fictional canon of the game.