Echoes from the Caverns 11.07.2014
Podcast: Play in new window | Download (Duration: 39:18 — 55.9MB) | Embed
Subscribe: Apple Podcasts | Email | RSS
Hello everyone – here is the news from 11.07.2014. An awesome newscast this week – lots of news from Shroud of the Avatar, along with special guests
Static Grazer
Lady Adnor
Amber Raine
And a special welcome to Lord Baldrith – back in the captain's chair!
Here's what we have for you in this week's edition of Update of the Avatar:
Tower of the Shuttered Eye!
SotA Community is Rockin' It!
Chris Spears' Release 11 Impressions
Lord Marshal Automaton Servant
R11 Still Open! Get Your Carnival Mask Tricorn Hat!
Steam Access Keys Now Available for All Backers
Get Your 15% Bonus
Holiday Specials
Last Chance Exclusives: Wood & Plaster 2-Story with Balcony Town Home
Alienware Sponsors $20 Pledge Upgrade Coupon
This Week In The News
Upcoming Events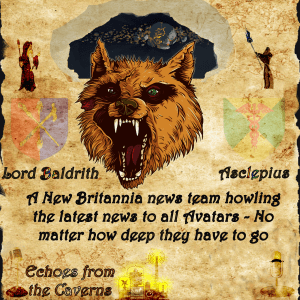 ---
Posted by Asclepius - Email Author
Visit The Caverns Website.
Please note: This is a SotA community run project, and any and all content may deviate from the fictional canon of the game.