Echoes From the Caverns 10-06-17
Podcast: Play in new window | Download (Duration: 1:00:50 — 75.0MB) | Embed
Subscribe: Apple Podcasts | Email | RSS
Hi Everyone! Asclepius is on Vacation so I will doing this alone, oh my oh my. Here is the news of the week!
Making of North Midmaer Way and North Quel Way
Updates to New Content Threads: More SeedInvest Items, Bierkrugs and New Fall Items
R46 Postmortem Telethon Next Week
Nightmares of New Britannia – A Spooky Halloween Contest
Cyber Monday Crown Bonus Continues
Weekend Flash Sale: Weapons
SotA Con Austin 2017 Next Week
Richard Garriott's Interview and Panel at IgroMir Expo
Livestream: Celebrating Release 46
Upcoming Events Calendar
Spotlight: Veritas Sanctuary Player Owned Town
Event: R46 Welcome Quest in FinDupre
Resources: Players Helping Players
Recommended Project to Support: Brightlocker CrowdEquity Campaign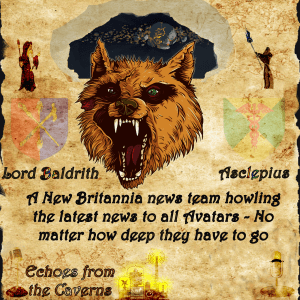 ---
Posted by Lord Baldrith - Email Author
Visit The Caverns Website.
Please note: This is a SotA community run project, and any and all content may deviate from the fictional canon of the game.