Echoes From the Caverns 09-30-16
Podcast: Play in new window | Download (Duration: 1:29:41 — 112.3MB) | Embed
Subscribe: Apple Podcasts | Email | RSS
Hello everyone! Hope you are enjoying R34!! Here is the news of the week!
Play Release 34 Now!
Q4 2016 Schedule
Release 33 Lot Deed Raffle Winners
Release 34 Postmortem Invite
Fall into Winter Telethon of the Avatar
Markee Dragon's: Portalarium Inside Look + Shooter Jennings
New Halloween Goodies, Musical Instruments, and Fireplaces
Upcoming Events
Community Resources – Players Helping Players
Job Openings (1)
Recommended Projects to Back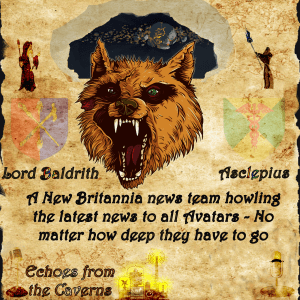 ---
Posted by Lord Baldrith - Email Author
Visit The Caverns Website.
Please note: This is a SotA community run project, and any and all content may deviate from the fictional canon of the game.