Echoes from the Caverns 07-22-16
Podcast: Play in new window | Download (Duration: 1:13:42 — 104.1MB) | Embed
Subscribe: Apple Podcasts | Email | RSS
Hello everyone – here is the last newscast before FINAL WIPE!! Hope you are looking forward to it as much as we are!!
Here is the news of the week:
•Xenos Reborn
•Brittany Central Housing Expansion
•Renovating Spite
•Rock Paper Shotgun's 2016 RPG List
•Next Dev Heading to SotA Con – Berek!
•New Bundle Store
•15% Bonus and 5 Day Countdown to Summer 2016 Expiration Event, Part 1
•The Sword of Midras SotA Novel for Hardcover, Kindle, Nook and Audiobook
•Upcoming Events
•Community Resources – Players Helping Players
•ONBE Shipments and Backer Shipping Addresses
•Recommended Projects to Back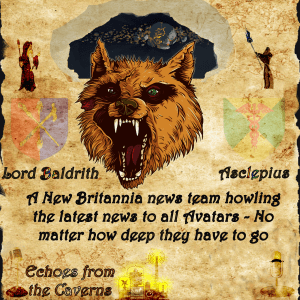 ---
Posted by Asclepius - Email Author
Visit The Caverns Website.
Please note: This is a SotA community run project, and any and all content may deviate from the fictional canon of the game.