Echoes from the Caverns 06-30-17
Podcast: Play in new window | Download (Duration: 1:00:30 — 96.4MB) | Embed
Subscribe: Apple Podcasts | Email | RSS
Greetings Avatars!  On my own today, as Lord Baldrith is on vacation. Hope you are enjoying R43!
Here's what we have for you in this week's edition of Update of the Avatar:
Play Release 43 Now!
Q3 2017 Schedule Update
Free Trial 4 Starts Monday!
Shroud at RTX 2017 Next Friday!
Alienware Arena Steam Key Giveaway
Shroud In the News: Antwand Pearman, MMORPG, Massively OP Podcast
Weekend Flash Sale: Lord British Birthday Party Supplies!
Pre-Telethon Flash Sales: The Lord British Collection
Lord British's Birthday Bash Telethon Next Thursday!
R43 Lot Deed Raffle Prize Winners
New Store Content
Movember Make a Difference Items
Comic-Con Panels with Richard Garriott and Starr Long
Community Contest: Rock Me Avatarus! – Party Showcase Contest
Community Livestream: Questing in Bloodriver Outskirts
Make Your SeedInvest Reservation Official!
Upcoming Events Calendar
Community Events: R43 Welcome Quest Festival and Putt Putt Golf Charity Drive
Community Resources: Players Helping Players
Recommended Project to Back: MidBoss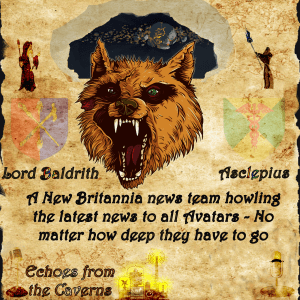 ---
Posted by Asclepius - Email Author
Visit The Caverns Website.
Please note: This is a SotA community run project, and any and all content may deviate from the fictional canon of the game.