Echoes From the Caverns 05-27-16
Podcast: Play in new window | Download (Duration: 1:28:17 — 109.3MB) | Embed
Subscribe: Apple Podcasts | Email | RSS
Hello everyone! Here is the news! Hope you are enjoying Release 30!!!
Play Release 30 Now!
Hospitaller Refueling Stations
Release 30 Postmortem Invite
Brittany Alleys
Name Reservation
New Cloth Tunic, Polished Cloth Doublet, & Viking Helm
New Tropical Island PoT Template & PoT Templates Page
MMORPG Previews: Release 30's Big Changes
Gold Crowns of the Obsidians
Tax Free Player Owned Town Lot Deeds (Bundles Only)
Viking Row House Tax Free Player Owned Lot Bundles
61 Day Countdown to Summer 2016 Expiration Event, Part 1
Community Resources – Players Helping Players
In-game Community Events
Upcoming Events
Backer Shipping Addresses
Recommended Projects to Back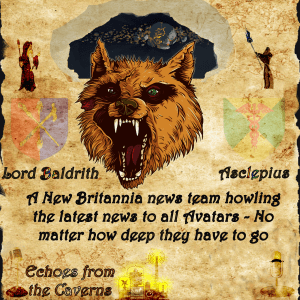 ---
Posted by Lord Baldrith - Email Author
Visit The Caverns Website.
Please note: This is a SotA community run project, and any and all content may deviate from the fictional canon of the game.