Echoes from the Caverns 04-29-2016
Podcast: Play in new window | Download (Duration: 1:22:15 — 120.3MB) | Embed
Subscribe: Apple Podcasts | Email | RSS
Hello everyone! Here is the news for April 29, 2016. A huge news release, with so much happening in Release 29! Hope you're enjoying all the new (and radically different) stuff!
Dual with the Devs During The Spring Festival of the Avatar Telethon!
Final 3 Days for 15% Bonus & Spring 2016 Pledge Expirations!
Play Release 29 Now!
Brittany Video Walk-through
Crypt of the Avatar
Meet the Companions (Offline Feature)
New Player Run Towns: Coastal and Interior Forests
Shroud In The News: R29 and Richard Garriott at PAX East 2016
Finn Staber at the Unity Roadshow
Final Weekend for The Emperors' and Empresses' New Clothes
New Furniture, Trees, In-Door Plants, and Torture Devices
In-game Community Events
Upcoming Events
Backer Shipping Addresses
Recommended Projects to Back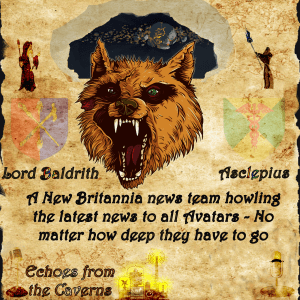 ---
Posted by Asclepius - Email Author
Visit The Caverns Website.
Please note: This is a SotA community run project, and any and all content may deviate from the fictional canon of the game.