Echoes from the Caverns 04.01.2016
Podcast: Play in new window | Download (Duration: 1:19:42 — 117.3MB) | Embed
Subscribe: Apple Podcasts | Email | RSS
Hello everyone! Asclepius here, flying solo this week! An absolutely awesome news week, with a new release and so much to talk about. Hope you're having a great time in R28!!
Here's what we have for you in this week's edition of Update of the Avatar:
•Play Release 28 Now
•Q2-2016 Schedule Update
•Crafting Interface Polish
•Making of Valhold
•Making of Britanny
•News & Videos
•Avatars Radio Presents: DJ FireLotus' Release 28 Party!
•Gallery of Horrors Grand Opening Tour
•The New Britannia Theatre Troupe Presents: Where is Shooter Jennings?
•Automated Phonographs
•Kobold Homes
•Giant Pavers
•Emperor's New Clothes
•31 Day Countdown to Spring 2016 Pledge Expirations
•Backer Shipping Addresses
•In-game Community Events
•Upcoming Events
•Recommended Projects to Back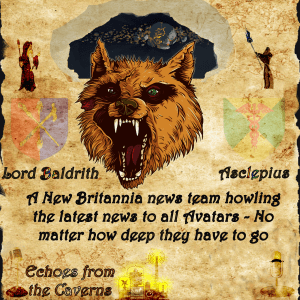 ---
Posted by Asclepius - Email Author
Visit The Caverns Website.
Please note: This is a SotA community run project, and any and all content may deviate from the fictional canon of the game.