Echoes From the Caverns 03-03-17
Podcast: Play in new window | Download (Duration: 1:29:44 — 111.8MB) | Embed
Subscribe: Apple Podcasts | Email | RSS
Hello everyone! Here is the news of the week. :
The Obsidian Cabalists (SPOILERS)
Free Trial Test: March 3 – 9
Storing and/or Moving a Decorated Lot
King Korabar
The Making of Underground Vaults
The Making of Serpent's Spine Mines
The Making of The Fall
Spring Telethon Next Week!
Patterns Weekend Flash Sale
Origin PC Steam Key Bundle
R39 Offline Data Format Change – Character Preservation Notice
Spring 2017 Crafter's Competition
Upcoming Events
Community Resources – Players Helping Players
Recommended Projects to Back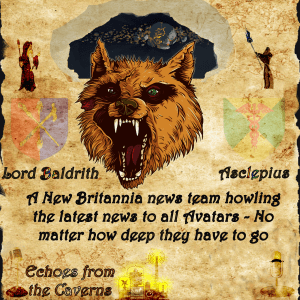 ---
Posted by Lord Baldrith - Email Author
Visit The Caverns Website.
Please note: This is a SotA community run project, and any and all content may deviate from the fictional canon of the game.