Echoes From the Caverns 01-05-18
Podcast: Play in new window | Download (Duration: 1:07:02 — 84.2MB) | Embed
Subscribe: Apple Podcasts | Email | RSS
Hello Everyone! Happy New Year! Finally back from a bit of a vacation and have more wonderful news for you:
Game Development
New Log Homes
Making of Yew (cont.)
R48 Telethon Items (cont.)
News Announcements
R49 Postmortem Telethon
New Free Trial Continues!
Job Opening: Office Admin / Executive Assistant
Party: Portalarium Studio Grand Holiday Party – Jan. 12
Weekend Flash Sale: Clocks
Upcoming Events Calendar
Community Updates
Creative Writing Contest Winners Announced!
The Avatar's Guide to Knowledge and Virtue Contest: Weekly Winners!
Spotlight: The Metropolis of Moonglade
Virtue Marathon 2018: Children's Miracle Hospital Network
Did You Know: Shroud Features Moondials?
Recommended Project to Support: Denis Loubet Patreon
Resources: Players Helping Players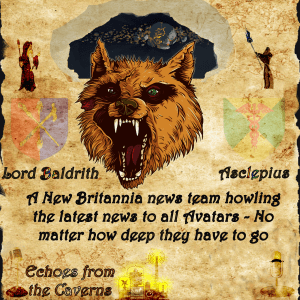 ---
Posted by Lord Baldrith - Email Author
Visit The Caverns Website.
Please note: This is a SotA community run project, and any and all content may deviate from the fictional canon of the game.