Echoes From the Cavern 12-12-14
Podcast: Play in new window | Download (Duration: 29:36 — 27.1MB) | Embed
Subscribe: Apple Podcasts | Email | RSS
Hello everyone! This week, we have special guest Sir Stile Teckel filling in for the vacationing Asclepius. Always awesome to talk to Sir Teckel. We have been working together for nearly a year now, and had a chance to talk SotA news and events. Newscast dated: December 12, 2014.
Lots of great stuff this week including:
The Heart of Sorrow Artifact
Release 13 Grand Tour Quest
Ignite Weapons in R13
SotA Community is Rockin' It!
In-game Community Weekend Events
SotA Merchandise Available at Relics by Rild
R12 Steam Access Keys Available for All Backers
Holiday Specials
Last Chance Exclusives: Brindle Greyhound and Oracle Statue Head
How to Cancel Monthly Payment Plans
Recruitment Bonus Allocation Expiration
This Week In the News
Upcoming Events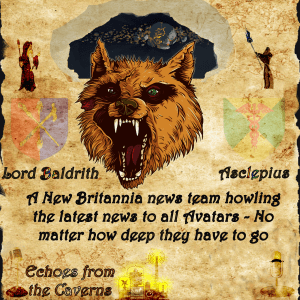 ---
Posted by Lord Baldrith - Email Author
Visit The Caverns Website.
Please note: This is a SotA community run project, and any and all content may deviate from the fictional canon of the game.