Echoes from the Cavern 10.24.2014
Podcast: Play in new window | Download (Duration: 41:00 — 57.8MB) | Embed
Subscribe: Apple Podcasts | Email | RSS
Hello everyone, here is the newscast for 10.24.2014
Great guests this week –
Amber Raine and Avatar Acid!
Lots of stuff to talk about, including:
Play Release 11 Now and Get Your Carnival Mask Tricorn Hat
R11 Patch Notes
Release 11 In-game Community Events
R11 Steam Access Keys Now Available for All Backers
SotA Quick Reference Card by Stile Teckel
New Housing Page
MMORPG Shroud of the Avatar Release 11 Preview: It's Steamy!
Zack's ELEMENTUM Makes Captivate Conference Finals
BEDLAM's Final Hours Stretch Goals
Lord British vs Darkstarr: A Family Feud
Get Your 15% Bonus
Last Chance Exclusives
Flexible Placement Stretch Goal: Stables
Alienware Sponsors $20 Pledge Upgrade Coupon
Upcoming Events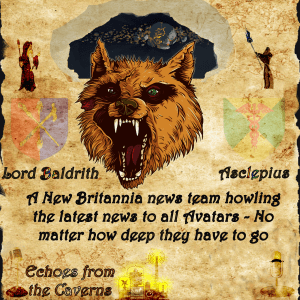 ---
Posted by Asclepius - Email Author
Visit The Caverns Website.
Please note: This is a SotA community run project, and any and all content may deviate from the fictional canon of the game.